North Korea's 3G mobile phone network is not working
61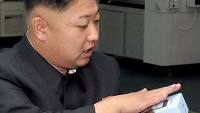 While North Korea has seen its internet service shut down again on Saturday morning, this time the nation's 3G phone network went down with it. While the average North Korean family might not be affected by an internet outage in the country, 1.7 million people in North Korea, out of a total population of 25 million, are said to have a mobile phone.
It is clear whom the North Korean government feels is behind the shutdown of its internet and 3G mobile phone service. In a racist statement, one government spokesman said that "
Obama always goes reckless in words and deeds like a monkey in a tropical forest
." President Obama had threatened retaliation against North Korea after the FBI said that the country was responsible for the hacking of Sony Pictures' computer system. And of course, that nefarious deed was supposedly done to payback Sony for producing and distributing "The Interview." The comedy's plot centers on two members of the media who are asked by the CIA to assassinate North Korea leader Kim Jong-Un.
As of 9:30pm Saturday evening, 3G phone service was still not working in North Korea. The U.S. is not taking credit for the outage.
source:
Gizmodo
Recommended Stories