Nokia's 2014 flagships claimed to be Lumia 1820 and Lumia 1525, great specs in tow
79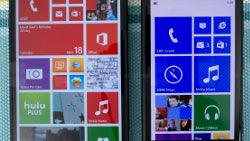 For what it's worth, one new and yet unproven leaker account on Twitter claims to have more information on the rumored Nokia Lumia 1820 and Lumia 1525 flagships for the year.
As you can see in the tweets, the handsets are said to be loaded, with the Lumia 1820 sporting a 5.2" 2K display, Snapdragon 805, 3 GB of RAM, 32 GB of internal memory, and large 3400 mAh battery, as well as a camera with Nokia's post-shot focusing technology and Xenon flash. The design is said to be similar to the
Lumia 928
, which is certainly slimmer than the current flagships
Lumia 1020
.
The other one seems to be an upgrade to Nokia's first phablet, the Lumia 1520, dubbed Lumia 1525, and will feature the same hardware specs and 2K screen resolution, but come with a 6" panel and 25 or 30 MP camera on the back, offering some sort of
solar charging display panel
, too.

Now, this is just one random tweet, allegedly from a new insider setting up shop, or wishful thinking from a fan. It may or may not materialize this way, but we've heard already back in the fall about a potential Lumia 1820 that will have Lytro-style camera and metal unibody design. The leak doesn't rehash the design part, only fails to list a microSD slot, whereas the Lumia 1525 is said to have one, so we can assume a unibody design for the 1820 indeed, especially if this huge battery pack pans out. A Nokia phablet upgrade has also been bandied about, though not in the level of detail that the leak above reveals about the Lumia 1525.
The question, besides the obvious dubious nature of the tweet, unconfirmed by a second source, is whether these weren't only plans in play before Microsoft swooped in and acquired Nokia. Now that even the Lumia name is up in the air, nothing can be speculated about the future Nokia flagships until something is actually announced, whether at MWC, as rumored for the 1820, or in the fall, as claimed for the Lumia 1525.
Moreover, Windows Phone supports up to 1080p displays now, so 2K panels could mean another version is in store to be released soon, or perhaps just an update to the existing WP 8 edition, not to mention the
Snapdragon 805 part, which won't be in devices before May
. Microsoft, however, is said to be
fronting extra Windows Phone manufactures with up to $2.6 billion
to go towards the development of their own handsets, so eventually it has big plans for the mobile OS this year. Nokia seems to still be pivotal to them, though, if those leaked specs come even partially true.
Recommended Stories