Solar charging your phone through its screen to enter retail devices a year from now
7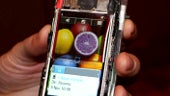 The French company Wysips has found a novel way to use the
transparent solar cell films
that have been around for a while. The thing that picked our interest is that Wysips's commercial application is for touchscreens like those on smartphones and tablets.
They've placed solar cell strips under a lenticular overlay directly over the glass, but below the touch layer, so the phone can continue to register touches, as if nothing happened. The claimed energy conversion rate is
9%
, which is on the low side, but probably the best transparent solar cells can do in such circumstances. The drawback is that the lenticular technology used to absorb light and direct our eyes to the display at once, meddles with the screen's brightness and clarity a bit.
Wysips promises that these issues won't be noticeable in the next prototypes, but we are positive something will have to give. The company is in talks with manufacturers and carriers for commercializing the technology in products about a year from now.
Charging your phone while it's just lying on its back somewhere, or in use, but absorbing light through the screen seems like a rather svelte idea to us, although it will only play a supplemental role, most likely to extend your battery mileage, not replace it. For now you can fully top up your charge for
six hours
in the sunlight, and more indoors, but the version next year should offer 30 minutes of talk time for an hour of your phone just sitting somewhere lit.
Sounds pretty, we will keep an eye on the developments in the solar charging screen phenomenon, as we can see it adding great benefits to devices like tablets, for example, which are all screen, and which you don't carry around in your pockets, thus blocking the light source.
source:
LaptopMag