Nokia trying to sell you on Lumia 610 with a new photoshoot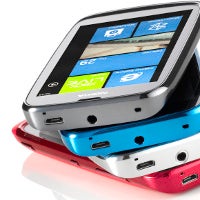 The
Nokia Lumia 610
is the most affordable Nokia Windows Phone, and it's important for WP in general as it marks the first time Microsoft's platform is going significantly down in price, appealing even to buyers on a tight budget. The Lumia 610 doesn't take any significant performance shortcut - Windows Phone is as smooth as ever, and you wouldn't notice that the Finns have actually cut some hardware corners to arrive at the low retail price of around $250 for the handset.
First comes the presence of a 800MHz processor and a mere 256MB of RAM, and second comes design. The Lumia 610 is the now usual for Nokia colorful plastic amalgamation, but while you may think plastic is nothing premium (you'd be right), the choice of colors does add a certain vibrancy to the phone's looks.
To underscore how much of a looker the Lumia 610 is Nokia is giving us a brand new photoshoot of the device, and we have to admit it looks sleek under the studio spotlight. Check it all out below and let us know whether such a device could end up in your hands in the future.