Nokia says its future Lumia devices will have waterproof tech inspired by lotus leaves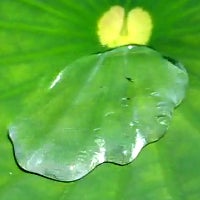 There is no shortage of waterproof nanocoating technology for your smartphone, as our hands-on reviews with
Liquipel
and
HzO
can attest at each and every major mobile expo these days.
Still, Nokia decided to go its own way, and Conor Pierce, Vice President of Nokia Western Europe, said its research team in Cambridge has cracked the code to introduce its own "Superhydrophobic" technology that will make liquids just run off the face of Lumia phones:
What happens when a drop of water lands on a lotus leaf… has baffled scientists for generations… but our team in Cambridge found a solution. Nano technology lets us do it. Superhydrophobic technology makes water bounce, it stops it, rolls it off the device, that's the magic, that's what we're going to bring to the party.
Rumors are that
both Apple and Samsung are rather interested in the HzO nanocoating technology
, which has been shopped to the management of both companies by ZAGG, and it won't be surprising if Nokia starts to waterproof all of its future Lumia Windows Phone devices, that Apple and Samsung commence the same. See the Superhydrophobic tech demo from Nokia's research lab in the video below.