Liquipel waterproof phone coating tech demo (video)
4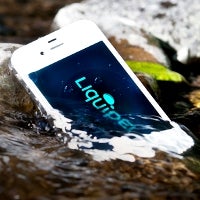 Liquipel
is one of the companies that demonstrated its waterproof nanocoating technology for us at the MWC expo last week. As these things go, it couldn't have made it easier.
You ship your current phone or other gadget to them, and get it back in a few days with the water-repellent nanocoating applied. The current phone Liquipel has tested the waterproofing technology with are Apple iPhone 4S, Apple iPhone 4, Apple iPhone 3GS, Galaxy S2 (T-Mobile), Galaxy S2 (AT&T), HTC Evo 4G, HTC Evo Shift 4G, HTC MyTouch 4G, Motorola Droid X/X2 and the Samsung Charge. For everything else, you have to shoot them an email first.
The Liquipel coating goes deep into the phone's ports as well, and binds with your handset's surfaces on molecular level, so it is a long-lasting way to waterproof your device without the need for a special airtight case or ziplock baggies. Prices range from $59 for an iPhone 4S for regular service to $79 for applying a protective film over your device as well.
Have a look at the hands-on demo that Liquipel did for us at the MWC expo in the video below.