Nokia responds to Google's EU collusion complaint
23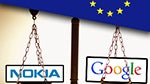 Yesterday we reported that Google had
filed a complaint
with the EU Commission, claiming that Microsoft and Nokia were colluding to drive up the price of smartphones that compete with Windows Phone handsets. Google alleged that 1,200 patents were transferred to Canadian patent troll MOSAID for the express purpose skirting FRAND obligations and allowing for lawsuits against competing phone makers.
Nokia released a terse response today, stating that they are transferring patents all the time, and that all deals (including the MOSAID patent transfer) requires the acquiring companies to uphold any and all FRAND agreements on standards-essential patents. Nokia referred to Google's complaint as a "waste of the commission's time."
Nokia also goes on to characterize Android as having "significant IP infringement issues", although it should be noted that all mobile products have these "problems" – it's just that some companies have enough offensive patents as to thwart lawsuits, while Google doesn't (or did not until recently, they've gone on quite the
patent purchasing
spree
the last 12 months).
Here is Nokia's statement in full:
"Though we have not yet seen the complaint, Google's suggestion that Nokia and Microsoft are colluding on intellectual property rights is wrong. Both companies have their own intellectual property portfolios and strategies and operate independently.
Nokia has made regular patent divestments over the last five years. In each case, any commitments made for standards essential patents transfer to the acquirer and existing licenses for the patents continue. Had Google asked us, we would have been happy to confirm this, which could then have avoided them wasting the commission's time and resources on such a frivolous complaint.
"We agree with Google that Android devices have significant IP infringement issues, and would welcome constructive efforts to stop unauthorized use of Nokia intellectual property. Nokia has an active licensing program with more than 40 licensees. Companies who are not yet licensed under our standard essential patents should simply approach us and sign up for a license."
Nokia's statement may be short on details and long on bluster, but Nokia hasn't seen the complaint yet, so they can't be expected to have a point by point response. You also can't blame them for wanting to defend themselves right away, since silence could be taken as a sign of guilt. It will be interesting to see what, if anything comes of this.
source:
Reuters
via
The Verge