Google buys 1,023 IBM patents for Android protection
47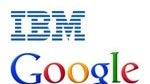 People can cry all they want about how Google is going to implode the Android ecosystem for its own profit with the Motorola deal. But, if you want to make that argument, you're going to have to willfully ignore the fact that Google has not only been purchasing patents to protect Android, but has used its patents to help non-Motorola
hardware partners like HTC
. That said, Google has purchased an additional 1,023 patents from IBM to strengthen its mobile portfolio.
This deal is completely separate from the deal we told you about back in July when Google bought a pack of 1,030 IBM patents, and does cover more ground than just mobile, with patents pertaining to web and search products as well as Java and scripting patents. However, the patents that we care about are the mobile patents, which pertain to: Coordination Of Cellular Telephones In A Residential Area To Obviate Need For Wired Residential Service, Method And System For Efficient And Reliable Mac-Layer Multicast Wireless Transmissions, System And Method Of Making Location Updating Management On A Mobile Station, Mobile Station And Mobile Network, and Telephone Information Service System.
Of course, how useful those patents will be in the Patent Cold War is still unclear, but we're sure that Florian Mueller will soon give us a breakdown of the patents, and more than likely put some unnecessary sky-is-falling spin on it for good measure. We'll try to explain the patents better as the full impact is more understood.