Nokia patents foldable battery
25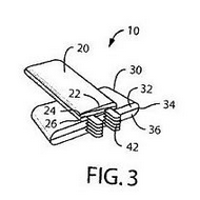 Talk about folding phones or flexible phones is great and exciting, but fails to take something important into consideration. To power such a phone you would need a folding battery. And that is where a new patent from Nokia comes in. The Finnish based manufacturer has come up with a folded battery that uses cells that can curve and fold with the phone that it powers. With this technology, we could see smaller and thinner devices.
Last year, we told you about a flexible cell made by the Korean Advanced Institute of Science and Technology. Last month, we showed you how far LG has gone in order to
make batteries that power flexible handsets
. One of LG's ideas is
the curved battery which the company is using now to power its curved LG G Flex
phone.
Someday we might have a phone that folds to the size of a Post-it note and then expands to the size of a regular smartphone. For something like that to be feasible, it will have to be powered by a battery that can handle the change in sizes, and still offer enough juice to run a power hungry device.
"Even though the internal components are becoming smaller and smaller, batteries generally lag behind other technological advancements, consistently consuming a large portion of the portable electronic device.

'In current portable electronic devices, to have a curved and aesthetically pleasing form factor, space is generally wasted between the battery and a case making the portable electronic device seem larger and a result may be less appealing,'

'Additionally, there may also be wasted space between the internal components and the case and/or between certain internal components.'"-Nokia patent application
source:
DailyMail
via
WPCentral