LG announces stacked, curved and cable batteries to go with flexible display phones
18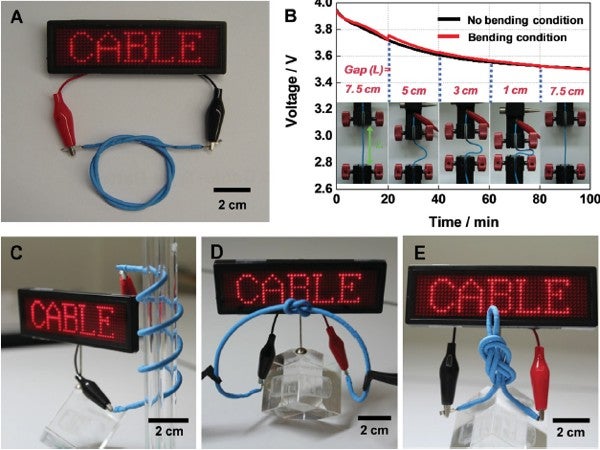 LG Chem, the Petrochemicals, IT & Electronic Materials, and Energy Solution branch of Korea's second largest electronics maker, dropped another bombshell today, after releasing the
world's first 6" flexible OLED display
yesterday.
It detailed in a press release the next generation of batteries that will be needed to power devices with these flexible displays, and not just flaunting the R&D side if things, but rather saying LG Chem is ready to start mass production of the battery types it listed.
Stepped Battery
First off is the so-called Stepped Battery, which stacks two modules together to form the final battery capacity, and allows for unorthodox designs, filling every empty nook and cranny of today's smartphones, with the ever-increasing complexity of their internals. This way, instead of the usual rectangular battery shape, we can get "stepped" designs, taking advantage of whatever empty space is left after the rest of the internal components have been planted.
A case in point is the
LG G2
, which uses a two-module stepped battery design, that has increased the density 16%, and added more than 3 hours of battery life to what it would have been if a normal rectangular battery were used. The G2's record endurance in all battery tests we've done confirms the viability of LG's approach, and the company says its integrated "stepped" technology allows for lower production cost compared to other manufacturers that would just stack modules on top of each other. Currently LG Chem is ready with three- and even four-step designs for mass production, indicating it may go further if the need arises.
Curved Battery
Now off to the other battery wonders of LG - the company also announced a Curved Battery to go along with
flexible display phones
, which introduces something called Stack&Fold technology, that minimizes the stress on battery components when the whole module is bent, making it perfect for filling in dead spaces in curved display handsets. In fact, the Curved Battery will go into production as soon as this month, destined for LG's next phones, says the company, which only made us think about the
rumored LG G Flex unveiling in November
.
Cable Battery
Finally, and this is some wild stuff here, LG Chem flaunted the so-called Cable Battery, which is the ultimate in flexibility, as it allows you to bend, twist and even tie it in a knot. Its thin film, however, is designed for low electricity usage and minimum heating, so it might not be ready for powerful smartphones just yet, but is meant for wearables like smart glasses and watches. YS Kwon, the President of Energy Solution Company, LG Chem, couldn't resist bragging about the unique battery technologies:
Through the exclusiveness of our unique technology, LG Chem has succeeded in launching future batteries that have not existed before. This shall be the fundamental grounds for LG Chem to become a pioneer in the market. As a leader of battery manufacturer, we will continue to strive for Global No.1 by developing more of optimized, safe and long-lasting batteries to make it the business of future generation.
LG Chem to unveil batteries of next generation
SEOUL--(Korea Newswire) October 8, 2013 -- LG Chem, a leading battery manufacturer, is ready to unveil batteries that have not existed before.

The company announced on the 8th that it has succeeded in breaking the tradition of rectangular shaped batteries to lead the effort to a more sustainable future by mass producing batteries of different shapes.

The types of LG Chem's future batteries can be categorized as the following. ▲ Stepped Battery, ▲ Curved Battery and ▲ Cable Battery.

At the moment, the chemical company is already mass producing stepped and curved batteries. Stepped Battery from Nanjing plant of LG Chem has been manufactured since July to power LG G2. However, the actual production of Cable Battery shall begin in upcoming years.

First of all, Stepped Battery refers to an integral type of a battery in which two batteries are added on top of each other in the shape of "step design." The battery takes greater advantage of available space within the device than other batteries as it perfectly suits the changing trend of modern IT gadgets of flexible designs.

For example, recent mobile devices have been adopting round shapes and designs with rear buttons creating unnecessary "dead space" inside the gadget. With Stepped Batteries, the dead space can be filled up to fully power the handset and also increase the battery capacity.

In fact, the battery density has increased the capacity by 16% and also the life span by more than 3 hours when applied to the newly launched LG G2, a premium smart phone by LG Electronics.

The competitors in the market may succeed in stacking two batteries to make it into the step design but due to the increased cost of such technology, rivals will not achieve to do so, unless they can make it to an integral single type just like LG Chem.

At the Nanjing plant, LG Chem plans to launch Stepped Battery that goes beyond 3 to 4 step designs, stacking up more batteries into one single type depending on customer needs.

In addition, LG Chem's Curved Battery refers to packs that can power IT devices with curved screen or flexible designs such as smart phones, watches and glasses. The company has the exclusive patent of Stack & Folding technology which reduces physical stress when realizing the curved design of battery packs. The mass production of Curved Battery has been started since this month and the products will power the next smart phone line up of LG Electronics.

Lastly, Cable Battery is applied to IT devices that are bendable, wearable and even be tied into a knot. Because it has been designed to use low electricity, the battery does not heat up although the user may operate the device for a long time. Moreover, the waterproof features of the battery allow itself to be used in wearable gadgets regardless of flexible figures, from necklace types to smart watches.

"Through the exclusiveness of our unique technology, LG Chem has succeeded in launching future batteries that have not existed before. This shall be the fundamental grounds for LG Chem to become a pioneer in the market. As a leader of battery manufacturer, we will continue to strive for Global No.1 by developing more of optimized, safe and long-lasting batteries to make it the business of future generation", said YS Kwon, the President of Energy Solution Company, LG Chem.

LG Chem will be participating at the InterBattery 2013, which will be held in COEX from Oct 16th to display and demonstrate related products in a private zone.

About LG Chem
LG Chem, Ltd. is a globally diversified chemical company which operates three main business units: Petrochemicals, IT & Electronic Materials, and Energy Solution. The chemical business manufactures a wide range of products, from petrochemical goods to high-value added plastics. It also extends its chemical expertise into high-tech areas such as electronic materials and rechargeable batteries. LG Chem is one of the world's largest lithium-ion battery manufacturers. For more information, please visit the LG Chem website at www.lgchem.com
Recommended Stories