Nokia makes official response to Antennagate comment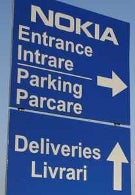 This afternoon, during the press conference held by Apple CEO Steve Jobs, he talked about how some Nokia phones come with stickers that read, "Don't Touch Here". Jobs, of course, was trying to show that antenna de-tuning happens to all phones when touched in a certain location. The Finnish-based firm felt compelled to answer Mr. Jobs in a press release that mentions how important antenna design is for Nokia. The Nokia 8810, launched in 1988, was the first commercial handset with an internal antenna according to the release. The most important part of the release says, "In general, antenna performance of a mobile device/phone may be affected with a tight grip, depending on how the device is held. That's why Nokia designs our phones to ensure acceptable performance in all real life cases, for example when the phone is held in either hand. Nokia has invested thousands of man hours in studying how people hold their phones and allows for this in designs, for example by having antennas both at the top and bottom of the phone and by careful selection of materials and their use in the mechanical design."
Nokia made a point of saying that they "prioritize antenna performance over physical design if they are ever in conflict." Does Nokia think that a certain Cupertino based company doesn't follow this rule?
Apple iPhone 4 Specifications
|
Review
source:
Nokia via
BGR