Nokia confirms 330k Lumia sales in the US, vindicates comScore and Nielsen numbers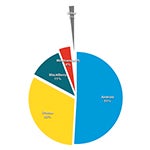 Over the years a reoccurring topic is the overall market share of various mobile platforms. While consumers should always pick the phone that best suits them rather than one that is "popular", at the same time there's no better way to analyze macro trends in the mobile space than to watch how market share expands and contracts for different companies and operating systems. In particular the smartphone race has become very platform dependent, as developers (and therefore app stores) tend to gravitate to the ecosystem where they can make the most money.

Numbers supplied by Nokia during their earnings call show that

they shipped 600,000 phones in the US last quarter, of which only 330,000 were Lumia phones

(the rest presumably being Symbian devices). This meshes up almost exactly with the estimate of sales that was derived from comScore and Nielsen numbers a week ago – note that only the Lumia 710 was even available prior to Q2, so the 330,000 Lumias moved last quarter are probably very close to the overall number sold so far in the US.

Why is this important? Aside from reinforcing the challenge that Nokia faces in the US market (and by the way, Nokia's year over year sales in the US are actually up, so it's not all bad news),

people that feel a vested interest in the mobile platform they choose frequently attack the estimates

provided by comScore and Nielsen as unreliable. And of course those numbers are indeed estimates, rather than being derived from POS data or internal OEM numbers. But they have consistently come up with results that are within a small margin of error from one another despite using somewhat different methods to derive their estimates.

And now Nokia has provided hard evidence that those numbers are in fact quite good – some people were understandably skeptical that Lumia sales could be so low in the US, and much of that derived from the early "things are going really well, we swear!" cheerleading PR boilerplate that Microsoft, Nokia, and AT&T through our way after the launch.


The reality is that our industry market share trackers are pretty good at what they do, while the companies with the most at stake in a product launch will always spin it the best they can. So while comScore or Nielsen may not be reporting what you want to hear (and every platform has had releases like that at some point) it's better to simply swallow the unpleasant numbers and try to understand them.


source: Nokia via TechCrunch