Nokia T7-00 pops up again, looking like an N8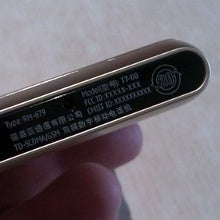 We first heard about the Nokia T7-00 a week ago. It wasthe first device carrying a T, marking a whole new series of Nokiaphones, but with no pictures, we could only guess the actualspecs of the handset. What we knew is that it was listed with a resolution of 360 x 640, standard for Nokia's higher-end devices. Now, you can takeall the time you need to inspect the T7-00, looking much like a downgraded Nokia N8on the pictures below, courtesy by PCPop.
The list of changes isn't too long as the 12-megapixel shooter on the N8 hasbeen downgraded to 8 megapixels and Nokia has replaced the Xenon flash witha dual-LED unit. The camera might even turn out to be of thefixed-focus (full focus in Nokia's terms) kind, which is far fromwelcome news for photography enthusiasts. The HDMI port hidden behind a cover has also been changed for a microUSB one.

On the positive side, theCPU has been given a 20MHz of additional clock power. If for somereason you've been waiting for such a model, you might bedisappointed to find out that the pentaband radio has also vanished,replaced with China's TD-SCDMA on the T7-00. Does this mean that the T in themodel numbers is somehow related to China's network? We can onlyguess, but Nokia's April 12th event promises to uncover allSymbian cards that Nokia has up its sleeve. And those might just turnout to be the last ones when it comes to higher-end phones, so staytuned.
source: PCPop via IntoMobile