Nokia N86 8MP also having problems with its microUSB port?
This article contains unofficial information.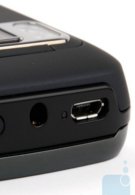 Some times the lesser known phones out there get overlooked when you hear about how some premier handsets are supposedly experiencing hardware issues related to their design or build. In the past, Nokia was being looked at intently when a handful amount of
Nokia N900 owners were having problems surrounding their microUSB charging ports
. Now the Nokia N86 is looking to follow the same path as it's being heard that "a high number of faulty Nokia N86" devices are shipped back to dealers for repairs. The problem is said to be found in how easily the microUSB port gets pushed inside of the handset as it's connected to a charging cable. Allegations of faulty ports on the Nokia N86 has lead a Nokia spokesperson to sat that "Nokia Care, Nokia's user support center, has not recorded any user complaints about faulty USB sockets on the N86 device." Sure it may not be happening all the time, but it's understandable the frustrations that mobile store owners in the UK are subjected to as they attempt to comprehend the reasoning behind the issue. They've gone as far as saying that "Nokia handsets seem to be the main culprit when it comes to weak microUSB ports. Users can be clumsy when charging their phones but in any case this should be fitted well enough to withstand such pressure." These kind of isolated issues can always lead one to point the finger at someone, but unless there is some kind of investigation launched to look into the matter, it can't be clearly stated that there is a manufacturing flaw in Nokia's design of the handset.
Nokia N86 8MP Specifications
|
Review
via
Unwired View