MicroUSB connection port on Nokia N900 faulty?
This article contains unofficial information.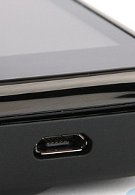 Being sought out as one of the most compelling devices to come out of Nokia's camp, there may be a design problem with the N900 which is causing a stir among owners. The Nokia N900 can certainly be considered as one powerhouse of a phone, but a potential trending problem with the microUSB connector's surface mount design is causing it to become misaligned – worse yet, it can completely become disconnected from the smartphone. Although this can happen to just about any connection by using an extreme amount of force over time, it seems that symptoms to this problem with the N900 include it being unusually snug or difficult to connect – resulting in an eventual dislodging of the port. Those who have been affected by this say that they are receiving mixed results in getting the problem covered under the manufacturer's warranty. Now if you do own the handset, just make sure to keep a watchful eye on how well the port is standing up as you continue to charge it.
Nokia N900 Specifications
|
Review
source:
Nokia support forums
via
Engadget