Nokia Moneypenny could be launched as Lumia 630 / 635, new Asha 230 (Spinel) also mentioned
10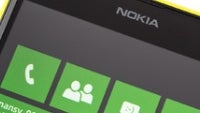 Nokia's Lumia Windows Phone family may welcome a new member soon. Initially known under the codename Nokia Moneypenny, the handset we're talking about could be released as the Lumia 630 / 635 - @evleaks says.
We don't know exactly what will be different between the 630 and 635 variants, but the model numbers are hinting at mid to low-end features.
It's possible that these new Lumia models are successors to the Lumia 620 and
Lumia 625
. However, since they're tied to just one codename, we're thinking that - maybe - the 635 is simply a
dual SIM
version of the 630, and both will represent upgrades to the Lumia 625 (which is newer than the 620).
The Lumia 625 was released back in the summer as Nokia's largest WP handset (although it's been overshadowed in the meantime by the 6-inch Lumia 1520 and Lumia 1320). The 625 has a 4.7-inch display with 480 x 800 pixels, so perhaps the new Lumia 630 / 635 will offer a screen in the same league, too - although a higher resolution shouldn't surprise anyone.
Another unannounced Nokia device mentioned by @evleaks is the Asha 230 (codenamed Spinel). We don't have any details on this at the moment. But we can tell you that Nokia's latest Asha handsets from
the 2xx series
came with full QWERTY keyboards - so here's a possible feature of the new 230.
@evleaks can't say when the Lumia 630/635 and Asha 230 are expected to be released. Maybe we'll see them at MWC 2014. We'll let you know.
source: @evleaks
(1)
,
(2)