Nokia Lumia smartphones doing poorly in Europe, admit carriers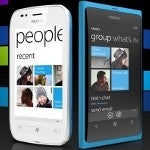 In fact, European wireless carriers that have been offering the
Nokia Lumia 800
and
Lumia 710
since Q4 of 2011 are quite underwhelmed.
"No one comes into the store and asks for a Windows phone,"
said an executive who works for one of them during an interview with
Reuters
.
"Nokia have given themselves a double challenge: to restore their credibility in terms of making hardware smartphones and succeed with the Microsoft Windows operating system, which lags in the market,"
the executive added. Lack of innovation and insufficient marketing efforts are among the prime reasons as to why the Lumia lineup has been doing poorly in Europe, according to representatives for the said carriers. The
battery glitches that the Lumia 800 was plagued by
made it even harder to convince customers that Nokia's smartphones were worth picking.
At the same time, Apple's iPhone 4S and Android smartphones made by Samsung are dominating the European smartphone market. If Lumia smartphones are to grab a bigger piece of the pie, European carriers will have to increase subsidies so that customers can have a bigger incentive to buy one. Increasing the marketing budget with a little help from Microsoft could be of help as well, although it is no guarantee that doing so would turn the Lumia brand into a market success.