Nokia Lumia 920 and Samsung Galaxy S III each take a fast ball in the back
99+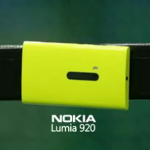 Nokia is really trying to get owners of other flagship models to switch to its own flagship handset, the
Nokia Lumia 920
. To prove its durability against the
Samsung Galaxy S III
, the Finnish manufacturer turned to America's National Pastime. Both handsets were strapped in place as a pitching machine
tossed fastballs
at the phones.
The first model beaned, the Samsung Galaxy S III, not only suffered a cracked screen, but the phone would not turn on after taking the impact of the speeding baseball. The Nokia Lumia 920, on the other hand, acted as though nothing had happened. In fact, there was
not even a scratch
on the device. Looks like a Home Run for Nokia while Samsung struck out.
Nokia has been
rolling out its new #switch campaign
and just the other day, we a showed you the accompanying television ad that will appear worldwide.
source:
YouTube
via
WMPoweruser