Nokia Lumia 1020 unveiled with 41 MP sensor, OIS and lossless zoom
71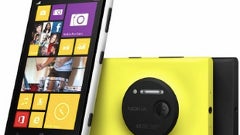 Answering everyone's prayers, the just-announced
Nokia Lumia 1020
finally combined the
PureView Phase 1
mobile camera technology as found in the 41 MP sensor of the 808 PureView, and the optical image stabilization (OIS) technology of
Phase 2
, which first appeared in the Lumia 920.
These two cameraphone "firsts" are now merged in one and the same device, and with a modern mobile OS to boot. Nokia took the stage to unveil what will likely be the cell phone camera to beat in the foreseeable future. Let's get the boring specs out of he way before we go into the nitty-gritty of the camera unit.
Lumia 1020 flaunts a 4.5" 768x1280 pixels
PureMotion HD+
AMOLED display with
ClearBlack
filter and
Gorilla Glass 3
on top, so you can expect blur-free visuals, high contrast ratio and low reflection. There is the usual high-brightness mode, which in Nokia's late flagships means the excellent 600 nits, which would aid sunlight visibility. The supersensitive touch tech is present as well, so the screen can be operated with gloves on.
The handset, available in black, white and yellow, measures 130.4 x 71.4 x 10.4 mm and weigh 158 g, which makes it thinner and lighter than the chubby Lumia 920, despite all that camera jazz inside, since with Lumia 1020 the wireless charging ability is added via a separate cover if you want it. It's powered by a dual-core 1.5 GHz Snapdragon S4 processor, features 2 GB of RAM, which is double the usual WP flagship amount, and 32 GB of internal memory. The 2000 mAh battery is good for seven hours of video playback and 13 hours of talk time, so it's right up with your typical flagship endurance.
Now the dry specs of the camera - breathtaking
41 MP BSI 1/1.2" sensor
, 3x lossless zoom (up to 6x for HD video), six-elements lens with ZEISS optics,
second generation OIS
suspension for shake-free videos and blur-free low-light photos that can compensate for up to 500 movements a second. The famed pixel oversampling again combines up to seven pixels in one super pixel at the default PureView mode, and can shoot simultaneously in the high-res 34 MP or 38 MP modes, and the PureView 5 MP mode for easier sharing.
Nokia Pro Camera
is the new application that takes advantage of all the sensor power and has some pro shooting modes and controls like shutter times, ISO,
manual focus
and exposure settings, and so on. The Camera Grip accessory is real, and is essentially a case with a side grip,
The oversampling tech now comes to video capture as well
, so you get the highest quality footage possible with a phone, even when zooming while you record. Add to those a powerful Xenon flash and an LED light for video recording, and you easily get the best cameraphone on the market, available this month. AT&T is getting it exclusively July 26th for $299.99 on a two-year contract, and you can preorder it starting July 16th.