Nokia Kinetic Labs concept literally bends to navigate the interface for twisted fun
11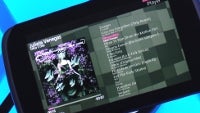 We've been waiting for a while for a bendable phone with one of them
flexible displays
that are popping up here and there, and Nokia Kinetic Labs just delivered the closest approximation possible at this moment.
You twist the device, which seems to be just a
flexible touchscreen
with the respective circuitry on a plastic substrate, and the interface responds by flipping to the next picture, zooming and so on, while the hardware that powers it is sitting rigid on the side. Not more practical than simply touching the screen with your finger, but way cooler.
A brave new world will come if we can actually employ printed processor circuitries inside and some of those
flexible transparent batteries
to make for a
foldable big touchscreen phone
- it would be nice if we could just fold the gigantic Samsung Galaxy Note and tuck it neatly in our shirt pocket, for example, then whip it out in all the 5.3" glory for watching tubes at the airport. We are
long way from that
, but concepts like this one you'll see in the video below from Nokia Kinetic Labs should be encouraged and showered with R&D budgets, as far as we are concerned.