Samsung shows off its flexible OLED displays
9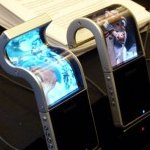 If there is one commonality that all high-end smartphones embody, it has to be none other than the fact that they're all simple pieces of slabs at their core – and nothing more than that! However, every now and then, we are greeted with a kind of device that manages to stray from the tried and true design of today's contemporary smartphones. Even before the first official day of CES kicked off, we were able to check out Samsung's booth during Pepcom's event and witnessed something truly imaginary that makes you wonder about the endless possibilities that can grace future smartphone designs.
On hand at their booth were a variety of
flexible OLED displays
that indeed captured the attention of our gaze since it's not
too
often you come across something so far fetched. Now even though it's rather difficult to see ourselves using a curved touchscreen of some sort, and we mean curvy, there are some areas where we can see this technology becoming extremely useful. However, we were impressed when they demonstrated their flexible OLED panel which wasn't encased by something – which made it look more impressive since it's able to function even when it's twisted or bent.
Not only did it radiate almost
perfect viewing angles
, but its overall luminance and sheer vivid colors managed to enthrall us to its galvanizing beauty. Moreover, the Samsung rep even mentioned that the
flexible OLED display is unbreakable
since there is no glass used whatsoever and is constructed out of plastic. Finally, it's stated that battery life offered by these flexible OLED displays are more advanced than what's currently offered by some of their existing display technologies.
Granted that the units we checked out were still prototypes, it does provide a footprint on what to expect down the road when so many devices still resort to the usual tried and true form factors. It's not to say that we'll see flexible OLED displays replace the traditional set we're accustomed to using, but its can greatly add to it – such as using one for an extension for a regular panel. In any event, they're naturally impressive at the surface, but it'll be more interesting to see how engineers and designers can implement this technology into future devices.