Nokia 900 Windows Phone appears on a remote connection
5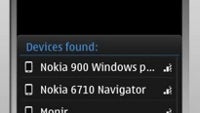 The first Nokia Windows Phone! Nokia fans are waiting for it hoping it would be the second coming for the Finnish company and now there's more evidence of the upcoming Nokia WP and even an exact name - the Nokia 900. That's what a Nokia developer found out browsing around Bluetooth connections via Remote Device Access. The programmer remotely accessed a Nokia N9 and went into nearby Bluetooth devices and that's where the
"Nokia 900 Windows Phone"
showed up.
Now, that doesn't necessarily confirm anything - you could tweak the name of your device so it appears as a
Nokia iPhone 5
, which obviously doesn't mean that Nokia is working on an iPhone. But, the chances of someone purposefully renaming a device to Nokia 900 Windows Phone are, let's say, not that high.
Of course, this only gives us a brand name. We can derive that the Nokia 900 - if true - will be a
high-end device
, as its number suggests. The rest is mystery and theorization, which you can comment on below.