Nokia 801 could be the last Belle smartphone, possible N8 successor
16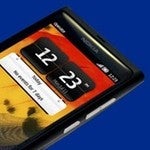 The smartphone in the render below is said to be the Nokia 801, and what runs on it is the
Symbian
Nokia Belle platform. Obviously, the handset looks nothing like
that other Nokia 801 from last year
, which could be nothing but a concept. As a matter of fact, the device in the image appears very similar to the
Nokia N9
,
Nokia Lumia 800
, and even the
Lumia 900
in terms of design. Of course there is nothing wrong with that as all of these handsets look very appealing indeed.
In terms of specs, it is rumored that the Nokia 801 has a 4-inch ClearBlack AMOLED display with a rather low for its size resolution of 360 by 640 pixels. Under its hood are expected to reside a 1.4GHz processor and 512 megabytes of RAM. A 12-megapixel auto-focus camera with a dual LED flash and 1080p video recording abilities will grace its back, according to rumors. NFC support should also be in tow.
Of course, this rumor should be taken with a huge grain of salt as it might be very inaccurate, even totally made up. On the other hand, one and only Eldar Murtazin confirmed via Twitter that the Nokia 801 is indeed a real device. But will we ever get a chance to hold it in our itching hands? Only time will tell.