Nokia 7.1 vs LG G7 One and Nokia 6 (2018): Specs comparison
4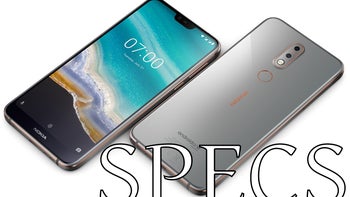 In case you've missed the news, Nokia has just announced its latest mid-range device, the not-too-shabby Nokia 7.1. Running stock Android One, the device packs a perfectly adequate hardware setup for today's mid-range scene.

After all, the Snapdragon 636 is considered by many to be the rightful spiritual successor to the Snapdragon 625 chipset, a piece of silicon that has been the undisputed king of battery efficiency for a while now. There's a reason why Chinese giant Xiaomi used it in more than a dozen of its own devices. The Snapdragon 636 offers ample performance for rudimentary everyday tasks and lighter gaming, but not expect wonders when it comes to heavier tasks and heavy gaming.

But how does the Nokia 7.1 stack up against some of its healthy competition? Don't you fret, here's a neat specs comparison that will show you how the specs stack up against the neat LG G7 One and the new Nokia 6, which are two other exceptional Android One devices.
Scratch-resistant glass, Ambient light sensor, Proximity sensor
HDR support, Ambient light sensor, Proximity sensor
HDR support, Scratch-resistant glass, Ambient light sensor, Proximity sensor
Qualcomm Snapdragon 630 SDM630 (14 nm)
Qualcomm Snapdragon 835 MSM8998 (10 nm)
Qualcomm Snapdragon 636 SDM636 (14 nm)
Octa-core, 2200 MHz, ARM Cortex-A53, 64-bit
Octa-core, 2450 MHz, Kryo 280, 64-bit
Octa-core, 1800 MHz, Kryo 260, 64-bit
Adreno 508
Adreno 540
Adreno 509
Android (9.0 Pie, 8.0 Oreo)
Android (10, 8.1 Oreo)
Android (10, 9.0 Pie, 8.1 Oreo)
Fast charging
Qualcomm Quick Charge 3.0, USB Power Delivery
Fast charging
16.00 hours
the

average

is 3 h (180 min)
19.50 hours
the

average

is 3 h (180 min)
21.1 days (507 hours)
the

average

is 3 days (72 h)
17.0 days (408 hours)
the

average

is 3 days (72 h)
Single camera
Single camera
Dual camera
16 MP (OIS, Laser and PDAF)
Aperture size: F2.0; Pixel size: 1 μm
Aperture size: F1.6; Focal length: 31 mm; Sensor size: 1/3.1"; Pixel size: 1 μm
Aperture size: F1.8; Pixel size: 1.28 μm
5 MP (Depth information)
Aperture size: F2.4; Pixel size: 1.12 μm
3840x2160 (4K UHD) (30 fps), 1920x1080 (Full HD) (30 fps)
3840x2160 (4K UHD) (30 fps)
3840x2160 (4K UHD) (30 fps), 1920x1080 (Full HD)
Video calling
Video calling, Video sharing
HDR, Video calling, Video sharing
8 MP
8 MP
8 MP
1920x1080 (Full HD) (30 fps)
1920x1080 (Full HD)
5.86 x 2.98 x 0.34 inches (148.8 x 75.8 x 8.6 mm)
6.03 x 2.83 x 0.31 inches (153.2 x 71.9 x 7.9 mm)
5.89 x 2.80 x 0.31 inches (149.7 x 71.18 x 7.99 mm)
6.07 oz (172.0 g)
the

average

is 5.9 oz (168 g)
5.50 oz (156.0 g)
the

average

is 5.9 oz (168 g)
5.64 oz (160.0 g)
the

average

is 5.9 oz (168 g)
Back: Aluminum
Back: Glass; Frame: Aluminum
Water, Dust; IP68; MIL-STD-810 certified
Fingerprint (touch)
2D Face unlock, Fingerprint (touch)
Fingerprint (touch)
Recommended Stories