Nexus S 4G Hands-on
20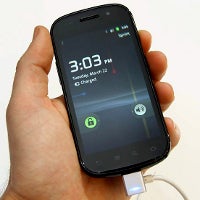 What is that you are saying, a phone with the pure Google experience? And this one's on Sprint, and not T-Mobile? Well, yes, Sir!
The
Nexus S 4G
for Sprint joins the black and yellow ranks, bringing with it the unadulterated "with Google" experience, thanks to its stock
Android 2.3 Gingerbread
software.
At first look nothing is setting it apart from the Nexus S - same slightly curved shape, light weight, thin plastic profile, and the 4" Super AMOLED Contour display with 480x800 pixels. The default snappy 1GHz Hummingbird chipset is purring inside the handset, and that same 5MP camera on the back winks at us with the LED flash by its side.
It's enough to glimpse at the familiar Android wallpaper, though, and over there at the notification bar of the stock UI you immediately recognize something that sets this handset apart from the original. It's the magical 4G symbol, meaning that the signal it is catching comes not from the EV-DO rev.A equipment in Sprint's towers, but rather from the Clearwire's
WiMAX
network. That's right, this is phone for the
Android purists
with a Sprint contract, who will be able to take advantage of all the
enhancements
Gingerbread brings, and at fast 4G speeds to boot.
Not only that, but for the first time in the history of the universe, you will have
Google Voice
so tightly integrated into a handset, that you won't even have to port your Sprint digits to use it:
"Sprint Nexus S customers also will be able to easily use their current Sprint wireless phone number as their Google Voice number without having to port their number, avoiding porting charges and potential service disruptions. Google Voice makes it easy for people to manage and access most of their voice-based communication. It lets users manage up to six different phones through one number with intelligent call routing and advanced features like call screening, blocking and recording.
..
Now Sprint subscribers can use their Sprint number across their office, home and wireless phones, and personalize settings so calls from friends ring their wireless device and home phone, while calls from the boss only ring at the office. Google Voice users can receive transcribed voicemails and read or listen to them online."
If that's not enough for you to like the Nexus S 4G, we'd say you are spoiled from all the other excellent handsets that are invading the stage left and right today at the CTIA show, and you will be totally forgiven.