Nexus S 4G coming to Sprint, to be the first with fully integrated Google Voice
4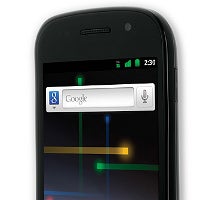 UPDATED: Sprint sent us the press release that now the Nexus S 4G is official, $199.99 from Sprint, available both in stores and online in the Spring. Super AMOLED screen and WiMAX connectivity plus Wi-Fi hotspot capabilities for up to six devices are confirmed. As for the unique Google Voice integration in Sprint's fourth 4G phone, the carrier says:
"Sprint Nexus S customers also will be able to easily use their current Sprint wireless phone number as their Google Voice number without having to port their number, avoiding porting charges and potential service disruptions. Google Voice makes it easy for people to manage and access most of their voice-based communication. It lets users manage up to six different phones through one number with intelligent call routing and advanced features like call screening, blocking and recording."


Now Sprint subscribers can use their Sprint number across their office, home and wireless phones, and personalize settings so calls from friends ring their wireless device and home phone, while calls from the boss only ring at the office. Google Voice users can receive transcribed voicemails and read or listen to them online."
Sprint's CTIA keynote is one of themain events of CTIA, which is kicking off tomorrow, but informationabout the carrier's Nexus S 4G WiMAX-capable handset alreadyleaked out on their own website. It took a simple search for "nexus"on Sprint's website in order for confirmation for the Nexus S 4G rumorsto show up.
And while the phone's main functionsmimic the ones on its predecessor, the Nexus S, it will also offer novel features like "fullyintegrated" Google Voice allowing you to get voicemailtranscriptions and most importantly make VoIP calls. If that really turns out to be a full integration of the services, it could mean that you should be able to enjoy nationwide free calling and very cheap international calling rates as well. Add the sweetsmell of fresh Android Gingerbread on the software side, and youarrive at an alluring proposition. More details are surely comingsoon as Sprint's very own Dan Hesse will step up at CTIA in sunnyOrlando with the newest from the carrier, so stay tuned.
source: Sprint via Engadget