Nexus 5 receives OTA update to Android 5.1
22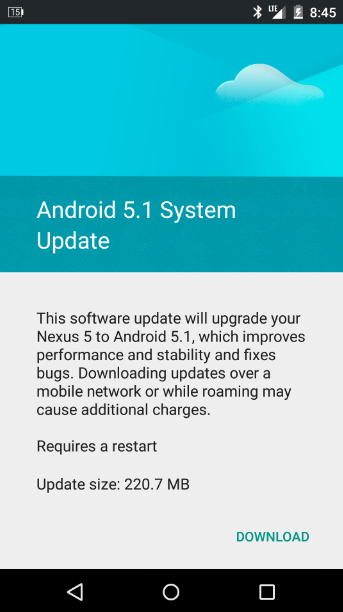 The Nexus 5 is updated to Android 5.1
One of our loyal readers has informed us that his
Nexus 5
has been updated to Android 5.1. This isn't terribly shocking considering that
Google had already released the Android 5.1 Factory Image
for the LG produced stock Android phone. We actually got our first look at the Nexus 5 running Android 5.1
all the way back in November at the Devoxx Conference in the Netherlands
. Last month, an Android 5.1 powered Nexus 5 was
seen going through the Geekbench Benchmark site
.
Recently Android 5.1 was
sent out to the stock Android Nexus 6 phablet
manufactured by Motorola. Based on that update, Nexus 5 owners should expect their handset to be better protected if lost or stolen. Devices suffering from that fate will remain locked until the rightful owner signs in with his or her Google account info, even if the device has been factory reset.
Other changes include longer battery life and improvements to the 64-bit ART runtime compiler, which should allow apps to open faster. RAM management will be better and issues with "Okay Google" are fixed. System stability will show improvement.
If you do own the Nexus 5, you should expect the OTA update to hit your device shortly. It weighs in at 220.7MB so you might want to be on a Wi-Fi network when downloading and installing it. And make sure your battery is at least 50% charged. If you're the impatient type, you can always flash the Factory Image.
Thanks for the tip, Ryan!