Nexus 4 teardown shows hepta-band LTE chip
15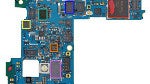 This is a bit strange. We reported on the
teardown of the Nexus 4
yesterday, but we didn't notice an interesting thing that was uncovered. Luckily, a reader sent us a tip. Apparently, the Nexus 4 has a hepta-band Qualcomm LTE chip built-in.
This is strange for a couple reasons. First, Google said there was no LTE. That is obviously strange when iFixit has found that there is a Qualcomm WTR1605L Seven-Band 4G LTE chip on the front of the Nexus 4 motherboard (listed on Step 17).
The second reason why this is strange is because the LTE chip is accompanied by a Qualcomm MDM9215M 4G GSM/CDMA modem on the back side of the motherboard (listed on Step 18). So, the radio chip has world-compatible LTE built-in, but the modem doesn't seem to have the capability to run LTE.
So, it seems that Google was telling the truth when it said that
adding LTE would have been too expensive
, added too much bulk, and been difficult because of the varying LTE compatibility around the world. The radio chip is small, and easy, but the modem is the piece that would have added the cost, bulk, and battery drain that Google was talking about.
Still, it's a strange sight to see an LTE radio on the teardown. But, it likely won't come of anything without heavy modification, because a modder would have to replace the modem to get LTE running. So, don't get your hopes up.
Thanks to Tushar for the tip!