Nexus (2015) display panel leaks – reaffirms previous photos
17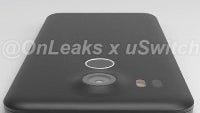 So, thanks to numerous leaks and reports, we can pretty much be sure that we will see two Nexus smartphones this year – one made by LG, following the classic, compact design guidelines of the 5" Nexus from 2013, and one built by Huawei to be a 5.7" phablet. We've even seen leaked images of both devices –
here
for the LG Nexus, and
here
for the Huawei Nexus – but, of course, this doesn't mean that these photos are 100% genuine, or that the handsets will end up looking exactly this way.
Still, the fact that their frontal panels are so alike, and look so similar to the Motorola-made Nexus 6, leads us to believe that there is a pretty solid chance that this is, indeed, the finalized design for these phones. Additionally, more leaks are coming in, and now, we have yet another picture of a display panel for a 2015 Nexus device (it is unknown whether it's for the LG or Huawei one). As you can see in the pictures below, it certainly shares the same dual speaker grille openings and selfie snapper placement. Judging by the openings' width, we'd wager it's the panel for the LG Nexus 5 (2015), though, we can't be 100% sure.
With all these leaks, there is also a rumor that we may see the Nexuses launched by the end of September, or start of October, though, this one is far from being confirmed. As far as what kind of hardware you should expect from the new Google smartphones, reports suggest QHD (1440 x 2560) resolutions, 3 GB of RAM, rear-mounted fingerprint scanners, a set of front-facing stereo speakers, and USB Type-C will be toted on both phones. The Huawei-branded Nexus will have a 5.7" screen, whereas the LG Nexus 5 (2015) will sport a smaller, 5.2" one. Under the hood, the Huawei Nexus will have either a Snapdragon 810
or Snapdragon 820
SoC, while speculation suggests that the LG Nexus will bear
a Snapdragon 808
. That's what we know so far – not much, but conflicting reports are everywhere, probably no small thanks to the fact that dual-device production is causing a bit of confusion among sources.
source:
@manu09090
via
Ubergizmo