First alleged real-world images of Huawei's new Nexus phablet leak out (update: Snapdragon 810 inside)
96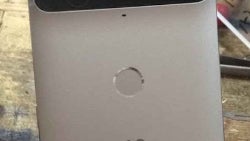 Google's Nexus family is due for an upgrade with not one, but two new phones: a regular sized smartphone allegedly made by LG, and a larger screen-phone, a phablet made by Huawei, and it seems that the first legitimate real-life images of the Huawei Nexus phone have leaked out. The phone is rumored to feature a 5.7-inch display, run on the Snapdragon 810 system chip and sport a 3500mAh battery.
The Huawei Nexus images surfaced on Google Plus, courtesy of user Tiesen Fu, who claims he got the pictures from a friend, and while we can't say much about the source, the images do seem very realistic.
The images portray a phone carrying both the Huawei and Nexus logos and two of the three key signature features of the new Nexus family: dual front-firing speakers and a fingerprint scanner on the back. The third one is allegedly a USB Type C port. This trifecta of new features for both new Nexus phones were first mentioned by @onleaks, who has an admirable track record with rumors.
Update:
@onleaks has joined in the leak saga with a screenshot image of the boot sequence showing for the first time that the upcoming Huawei Nexus phone (codenamed 'Angler') will indeed run on the Snapdragon 810 system chip (MSM8994) with 3GB of LPDDR4 RAM and will have a version with 64GB of internal storage. This goes against some early-stage rumors about the phone being powered by the Snapdragon 820. Qualcomm is expected to ship the new Snapdragon 820 chip to mass market smartphones in early 2016. See the fourth image in the slideshow below for confirmation.
5.7" Huawei Nexus dimensions: 159.4 x 78.3 x 6.6/8.5mm
The variability in thickness is allegedly to show that the upper section containing the camera module is thicker, while the rest of the phone is said to be extremely thin. Take a look at the pictures right below, and let us know your thoughts: do you like what you see here?