Next iPhone coming in September, says analyst, won't bow to peer pressure for larger displays
16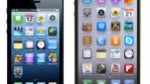 Jefferies & Co.'s analyst Peter Misek, who has covered Apple extensively over the years and issued quite a few preemptive notes to clients regarding events going on in its supply chain, was on Bloomberg TV giving an interview recently, regurgitating his
main talking points on Apple's universe
.
The main take from his musings are that nothing in Apple's supply chain indicates that it is prepping to launch a phone with a large screen, or at least larger than the one found on the
iPhone 5
. The specifics of Apple's display tech usage apparently won't allow it to conceptualize and retool for a big-screen iPhone
the way Tim Cook wants it
until the 2014 edition.
The S4 is a five-inch-screen product, so, broadly speaking, the two don't really compete. We think Samsung will take significant market share this year. Here in the U.S., Apple will continue to garner great market share. The pressure for a larger-screen phone will continue to mount. Based on our supply chain work and our research on Apple's technology, we don't think they can produce a larger screen iPhone till the middle of next year at the earlier.
Also, the analyst tracks more than 400 suppliers, and he mentioned the next iPhone is unlikely to arrive in the summer, but will keep the new September schedule of announcement that was introduced last year. It is virtually certain, Mr Misek said, that the changes won't be in design, but rather in functionality, like a new higher-res camera unit, as well as a faster processor.
As for the affordable iPhone, he confirmed the possibility, saying that it is likely to have the same 4" screen size, but use different components than Apple's flagship, and be introduced for China Mobile and other targeted carriers abroad first.
Recommended Stories