Analyst says larger iPhone 6 planned for June 2014
41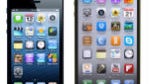 In Apple's recent quarterly earning call, CEO Tim Cook implied that Apple wouldn't be launching any new products until this fall. That meant that analysts shifted the dates on various products. Now, we expect the iPhone 5S this fall, and one analyst thinks that Apple is still going to move to a faster release cycle, meaning the iPhone 6 would be planned for June 2014.
The prediction comes from Peter Misek, an analyst with Jefferies. Misek is an analyst who is never afraid to make predictions about Apple, and not only is he saying that the iPhone 6 is planned for June 2014, but that it is planned to be larger than the iPhone 5. Of course, the iPhone 5 is still on the smaller end of screen sizes these days at 4", when much of the flagship competition comes in between 4.5" and 5". Tim Cook has said that devices of that size are built with too many "tradeoffs", which is the same reasoning behind why the iPad mini is 7.9" rather than 7". Apparently, Apple will have found fixes for those tradeoffs by June of next year for the iPhone 6.
Additionally, Misek seems to like the leaks from KDDI that came out about the upcoming
iPhone 5S
saying that the device may contain a fingerprint scanner (though he doesn't seem to agree with a summer release for the device.) Misek finishes off his predictions with the requisite "well, duh" predictions that are obviously going to be true, but an analyst has to toss them in to offset the bigger claims that will likely turn out wrong. Misek says the 5S will have a better processor, better camera, and new color options. Well, duh...