New video once again shows off self-healing capabilities of LG G Flex
32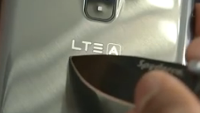 Last week we showed you a video
demonstrating the self-healing properties of the LG G Flex's rear cover
. Judging from the response we received to the video, it seems like many of you are really interested in this technology. Or perhaps you just can't believe it and you expect to see some sort of magic trick when you watch the video.
But the truth is that LG is on to something here. And unlike the previous clip, which showed the phone getting scratched by a steel brush under controlled conditions, this time we are looking at some real life scenarios. For example, you might have the phone in your pocket while the keys jingle and jangle and leave some damage to the back cover of your
LG G Flex
. On the video below, you can see that rubbing keys against the back of the device left some minor scratches that were eventually minimized. A deeper scratch left by a knife (!) was about half healed after a few hours.
Apparently, warming up the phone (not in a microwave!!!) will help it heal faster. In the video, rubbing the back of the device quickly with a palm was used to speed up the self-healing process. And now that it appears that AT&T, T-Mobile and Sprint customers will be
getting an opportunity to purchase the LG G Flex
, the self-healing feature is receiving more and more attention.
source:
MKBHD
via
Phandroid