Tweet says LG G Flex is coming to AT&T, Sprint and T-Mobile
12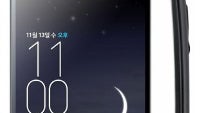 After getting launched in Korea on Tuesday, and
outscoring the LG G2 in the GFX benchmark test
, the curvacious
LG G Flex
is setting sail for the New World. At least, that is the speculation based on a tweet from evleaks who confirms that the flexible handset will be offered by AT&T, Sprint and T-Mobile. If evleaks is right, Verizon customers will be shut out.
The LG G Flex not only has that curvy form factor that bends in at the top and the bottom of the handset, it also
features a self-healing back that repairs hairline scratches automatically
. And
when the device was unveiled late last month
, there was talk about the phone having a very limited release. But soon, speculation arose that the LG G Flex was
going to receive a global send off
and evleaks' tweet has the handset coming to America.
The tweet didn't mention a price nor did it reveal a launch date. But for those statesiders who were hoping for a shot at the LG G Flex, it is the first sign that they will have an opportunity to purchase the flexible phone. That is, unless they are a Verizon customer in which case life has thrown them a curve.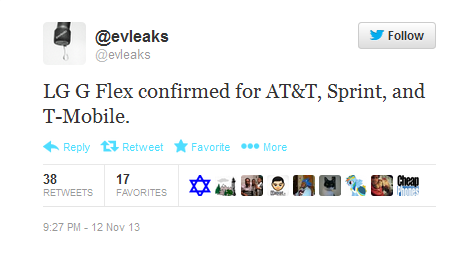 The LG G Flex is coming to the U.S. says evleaks
source:
@evleaks