New video explains how Apple Pay works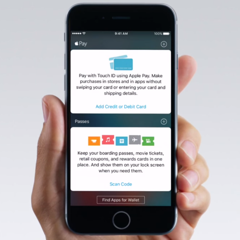 Currently available only in the US, UK, Canada, and Australia,
Apple Pay
is a simple mobile payment and digital wallet service. However, since those who can't test it (either because they're not based in the markets mentioned above, or don't have an Apple device) do not know how easy it is to use Apple Pay, Apple recently released a video to showcase just that.
The video - embedded below - also shows how to setup Apple Pay on your iPhone (it needs to be an iPhone 6,
iPhone 6 Plus
,
iPhone 6s
, or
iPhone 6s Plus
).
The service works not just when you want to pay wirelessly with your phone in stores, but also when you need to make purchases online. The
Apple Watch
can be used with Apple Pay, too.
Of course, other similar services from Apple's competitors (like
Android Pay
and
Samsung Pay
) are also very easy to use. But we can't blame Apple for advertising its own service, right?