Samsung Pay officially launches in the United States
31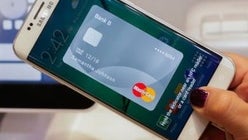 Buoyed by the concurrent emergence of smartwatches, the mobile payment industry is now in full swing. Apple has made a song and dance of its Apple Pay service, which has gradually
reached a number of nations
following its
Stateside initiation
, and now Samsung is joining in the shenanigans. Sammy had promised that its mobile payment system would be
ready to rock
by September 28th after testing the waters in South Korea, and so it has proved. But as is often the case with these major new features, there are some limitations.
Mobile technology is a fragmented beast, with the user experience likely to vary drastically from device to device. Even within Samsung's own ranks, you've got a wide selection of devices; some running on Android, modded with the company's own TouchWiz overlay, and others packing Samsung's emerging Tizen OS. But despite a smartphone roster that seems to add new faces on a weekly basis, only the newest and most powerful devices will be getting Samsung Pay for the time being.
This includes the
Galaxy Note5
, the flagship
Galaxy S6
, along with the
Galaxy S6 edge
and the
S6 edge+
. AT&T, Sprint, T-Mobile, and U.S. Cellular will support Samsung Pay from today's inception, but if you're subbed to Verizon, you'll have to sit it out for the time being. Away from carriers, a number of banks and credit / debit card vendors are already on board, including the likes of American Express, Bank of America, Citibank, MasterCard and Visa.
The main draw for Samsung Pay over, say,
Android Pay
or the aforementioned Apple Pay is that it supports NFC (Near-Field Communication)
and
MST (Magnetic Secure Transaction) infrastructures. The latter is more widely available, meaning that Samsung Pay will work with almost all traditional swipe-card payment terminals. Since Apple and Google only support NFC for now, Samsung users are at a significant advantage, and despite its belated introduction, those wielding a Galaxy S6-era handset will surely favor it over Android Pay.
To sweeten the deal, Samsung is also offering Note5 and S6 edge+ owners a free wireless charger or wallet flip cover, should they activate Samsung Pay before the end of October 11th. To hop aboard, just hit that source link.