New update sent out for Pebble smartwatch; version 1.10 supports third party watch faces
5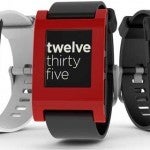 Pebble has sent out a firmware update for the Pebble smartwatch to
Version 1.10.0
. If the update cannot be seen when you open the Pebble app, force quit the app and try again. If that is unsuccessful, as a last resort, Pebble suggests that you delete and reinstall the Pebble app to clear the cache. The update is important as it adds support for third party watch faces created using the SDK. It also repaired a problem that drained the battery when the watch was connected to an iOS device. Several system apps are now more responsive and less of a drain on the battery following the update.
A couple of options were added to disable annoying little things. For example, Pebble owners can now disable the backlight that would turn on when the accelerometer kicked in. And the
vibrating motor
can now be disabled so it doesn't make that machine-like noise when a notification comes in. When you perform a factory-reset on the Pebble, it will now remove all non-system apps and watch faces, and the pop-up that reads "Allow Pebble to communicate..." in iOS will appear less frequently.
edge
-case issue that prevented a proper connection to iOS has been excised.
It is a long list to be sure, but if Pebble is going to still be around once the big guns like
Apple
,
Google
,
LG
and the others start
muscling
into the smartwatch business, Pebble needs to take advantage of this head start they have worked so hard to create to put out nothing but the best product. There is no question that owners love the watch itself and so far, it seems as though Pebble is taking care of business.
source:
Pebble
via
Droid-Life