Apple's latest patent application is related to an accessory we could see early next year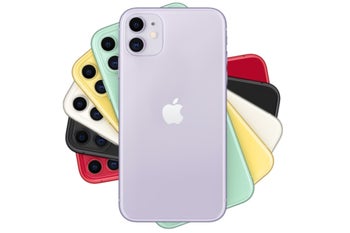 Last month, immediately after Apple unveiled the 2019 iPhone models,
we told you about the ultra wideband (or UWB) chip inside the handsets
known as the U1. UWB is used to transmit super-short radio waves that are sent out to other UWB enabled devices. Measuring the time it takes to find another device and return, accurate location information can be computed. While the U1 chip will eventually be used for the Apple Tags tracking system that will allow users to find their keys and other tagged items, right now it has just one function on the iPhone related to the AirDrop file transfer feature. With AirDrop, two iPhones with the feature enabled can transfer data to each other using Wi-Fi and Bluetooth connectivity. With the U1 chip, someone with an
iPhone 11
,
iPhone 11 Pro
or
iPhone 11 Pro Max
can point their phone at another 2019 iPhone model and put that device at the top of their AirDrop list.
Today,
the U.S. Patent and Trademark Office (USPTO) published a new patent application
submitted by Apple related to the use of UWB with the upcoming Apple Tags. The patent is titled "Electronic Devices with Motion Sensing and Angle of Arrival Detection Circuitry." The filing seeks to patent technology that can help find an Apple Tag by measuring the angle of the signal transmitted by the Tag, which will have the U1 chip embedded inside. The patent application also mentions how the motion of the user can also be included in the calculations required to find an Apple Tag. The system also could use some type of AR technology that would allow the person searching for a tagged item to see a visual clue. Leaked images reveal that the 3D image of a red balloon and the 2D image of an orange balloon could be used to find an item. A string of code found in the
Find My
app read, "Walk around several feet and move your iPhone up and down until a balloon comes into view."
Apple Tags could surface this coming March

While we were kind of, sort of expecting Apple to introduce Apple Tags at its new product event, the fact that they were MIA doesn't mean a thing. In fact, the AirPower
wireless charging
pad was introduced along with the
iPhone 8
,
iPhone 8 Plus
and
iPhone X
in September 2017. 562 days later, it was canceled. This time, Apple didn't mention the Tags, but it could appear in March 2020 along with Apple Glasses and the
iPhone SE
2.
The week after the September event,
more information about the tags surfaced
. With a codename of B389, they will work in conjunction with the
Find My
app. When an iPhone user moves away from a tagged item, he or she will receive a warning via a notification. If an item goes missing, the user can go into the
Find My
app and set off an alarm to help him or her find it. And with Apple Tags, an iPhone user can enlist the help of other iPhone owners to help find a missing item. When a tag is put into "Lost Mode," someone with a 2019 iPhone who comes across the item attached to the tag will be able to find out who it belongs to, and will be able to contact the owner via a phone call or text message. Apple Tag users can also designate certain areas as "Safe Zones" where an item can be placed without causing a notification to pop up. And the location of certain items can be shared with friends and family members.