Apple quietly adds ultra wideband technology to the 2019 iPhone models
27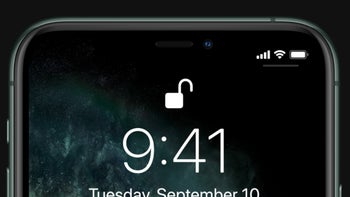 There is something inside the new iPhone models that Apple briefly revealed during last week's new product event, and we're not talking about bilateral wireless charging.
According to CNET
, Apple's latest and greatest handsets have a new chip inside called the U1. So what does this U1 do? The chips allow the phones to access a technology known as ultra wideband, or UWB. With the latter technology, super-short radio waves are sent out and the time it takes to travel between devices is measured. UWB will help an iPhone 11 owner find a phone, a lost dog, a key ring a tag and more.
UWB sounds like it would be employed with the rumored Apple Tags, and if Apple ever releases such a product, perhaps it will. But the potential for this goes far beyond finding mere tags. Apple itself hints at this on its website when it says, "The new Apple‑designed U1 chip uses Ultra Wideband technology for spatial awareness — allowing iPhone 11 Pro to understand its precise location relative to other nearby U1‑equipped Apple devices. It's like adding another sense to iPhone, and it's going to lead to amazing new capabilities."
The technology can be used now to put a fellow iPhone user at the top of your AirDrop list

Potentially, such technology could allow you to approach your car and have it unlock automatically without having to press a button (as long as you have your iPhone with you). When you drive to your next destination and leave the car, the vehicle would lock by itself as you walk away. And once you arrive home and head to your door, the lights would turn on automatically, safely brightening the walkway. While devices using Bluetooth can hone in on a location in two seconds, UWB does it one thousand times faster. In addition, Bluetooth is not as accurate and certainly not as secure as UWB which does have cryptographic capabilities.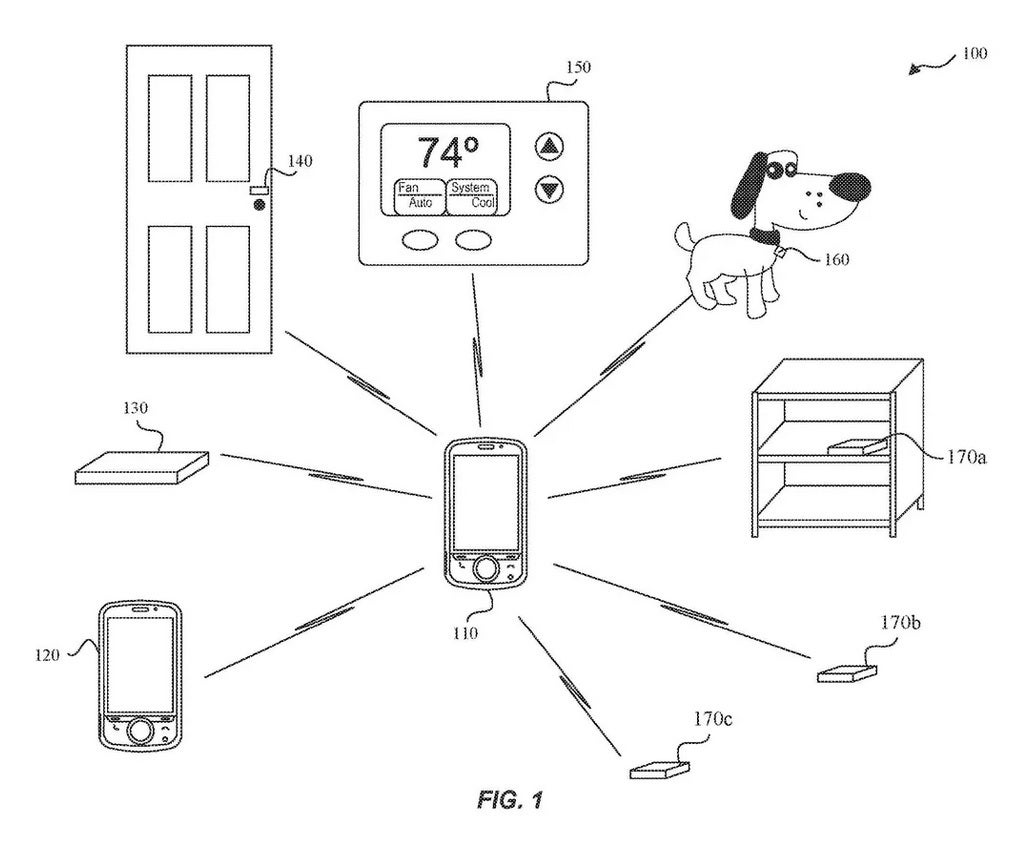 Apple has already received patents on some UWB technology
Currently, the U1 chip will allow iPhone users to point their device at another iPhone and put that phone at the top of their AirDrop list. While Apple didn't actually mention the U1 or UWB last Tuesday, the chip did appear on a screen behind Apple marketing chief Phil Schiller while he was discussing all of the features of the iPhone 11 Pro models.

"The new Apple-designed U1 chip uses ultra wideband technology for spatial awareness -- allowing iPhone 11 Pro to precisely locate other U1-equipped Apple devices. It's like adding another sense to iPhone. With U1 and iOS 13, you can point your iPhone toward someone else's, and AirDrop will prioritize that device so you can share files faster. And that's just the beginning."-Apple
The U1 joins the Apple family of processors including the A-series SoC that powers devices like the iPhone and iPad, and the M-series coprocessors used on the iPhone so that the handset can determine whether the user is driving, walking, running, or sleeping. And while the tech giant didn't make a big deal about this technology, it has been busy filing patent applications related to UWB.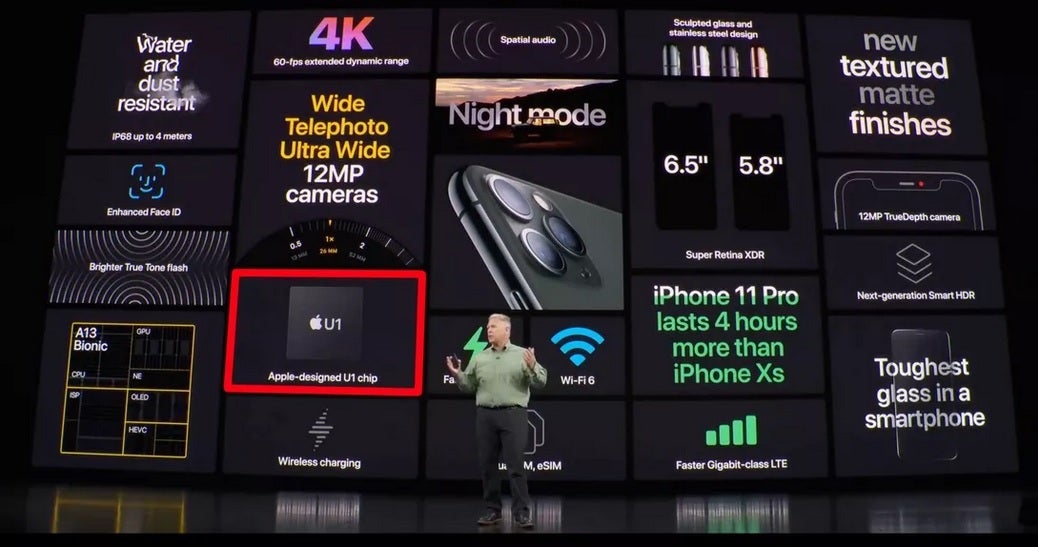 The U1 chip is briefly seen on a screen full of iPhone 11 Pro features shown during last week's new product event
A chipmaker named Decawave is one of several tech companies involved in UWB. The firm's VP of marketing, Mickael Viot, says that UWB can pinpoint locations down to four-inches and under certain conditions that could be improved to an accuracy of two-inches. To obtain this type of accurate location sensing, UWB transmits up to 1 billion pulses per second. The technology is actually found inside the shoulder pads worn by NFL players for instant replay use and companies like Boeing use the technology inside factories to tag and keep track of tools and other items found on the floor of its factories.