New alleged iPhone 6 dummy is snapped from all angles, measured against the iPhone 5s
30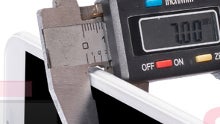 Well, well, well, look what we've got here, deep from the confines of a Romanian iPhone aficionado store. If it looks just like the next of the claimed
iPhone 6
dummies that
have been flooding the airwaves in the recent weeks
, that's because it is, but it's the only one snapped from all possible angles so far, and its dimensions measured with an electronic gauge.
The general shape and form of the dummy jibe with the ones we've seen so far, but for the first time we are getting actual measured confirmation on the
rumored 4.7" diagonal
, though not on
the speculated sub-7mm thickness
, as the ruler pegs it at exactly 7mm, which is still very slim. In addition, the alleged iPhone 6 shell is measured next to Apple's current flagship, the
iPhone 5s
, so that you can get a pretty good size difference overview.
The circular LED flash area on the back seems a bit out of whack, considering that we have a two-tone flash on the current iPhone edition, but let's not forget a different tech might be employed this year, and also that this might be just a placeholder for the flash on a dummy shell of a prototype, with more redesign to follow. What do you think, do you like where things might be eventually heading with the upcoming iPhone 6, if this leaked chassis below holds water when the real thing gets announced?