iPhone 6 dummy gets snapped alongside the entirety of the iPhone family and its main rivals
36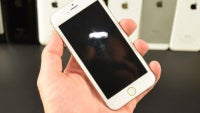 The upcoming Apple iPhone 6 has, by now, entered the minds of many consumers, what with
all the leaks
. We're expecting the biggest jump in display size since the original iPhone, along with a bump in pixel resolution, and a refreshed, iOS 8 software. This being Apple, however, plenty of people are anxiously awaiting a reliable early peek into the design of the next iPhone, though that is obviously a closely-guarded secret.
But we have our dummies -- phones that visually represent the design of an actual phone -- and by the hundreds, it feels. These have become so popular, that they tend to remind us of the iPhone 5c rumor cycle. Case in point: despite the widespread disbelief among fans, the many iPhone 5c dummies indeed turned out to be the real deal. That's not to say the dummy some of you may be seeing for the first time is a sure thing, but it could very well be.
Either way, many of us have already struck an acquaintance with these hollow iPhone 6 mock-ups, but the latest snaps, courtesy of Apple insider Sonny Dickson, are worth a separate mention on their own. That's because they paint a telling picture of the iPhone evolution, from 2007 to today, and highlight the design refreshes it went through, including the supposed new iPhone 6 look. But enough talk -- check them out!