'New York Subway' app arrives for WP7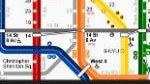 All right, we know you aren't all from New York, so maybe you don't know how important a good Subway app can be. If you're from
New York City
, you've probably found your Google Maps lacking at times. Fear not, the 'New York Subway' app is now available for
Windows Phone 7 devices
.
The app, from Presselite, combines your
GPS
with an up-to-date registry of stations and schedules. This means you can get directions for the fastest route, without worrying about which lines are running normally (because they never do). It also updates according to local service changes, so you won't get trapped on an express train to nowhere.
'New York Subway' works seamlessly with
Bing
and the Metro UI to give you a seamless interface. Especially when the MTA is shutting down routes and seemingly doing constant construction, you'll appreciate a reliable guide. Sure, you could just trust
Google Maps
, or check the MTA website, but isn't this easier? At $0.99, we certainly think so.
source: Zune/Windows Phone Marketplace via
WPCentral
Recommended Stories