4-man band rides NYC subway playing the Apple iPhone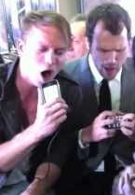 Take a ride on the NYC subway and you might witness almost anything. For example, those taking a ride on the "B" train recently happened to find themselves in the audience for a performance by the 4 man musical group Atomic Tom. Using nothing but their Apple iPhones and a portable speaker system, Atomic Tom members play apps that they downloaded from the App Store to simulate drums, guitar and piano.
Perhaps the music isn't the kind that you would normally listen to, but hearing the performance from Atomic Tom certainly beats the other things that you might see on the subway.
Apple iPhone 4 Specifications
|
Review
source:
NYTimes