New Xiaomi Mi Note 2 leak seems to confirm specs including 6GB RAM
80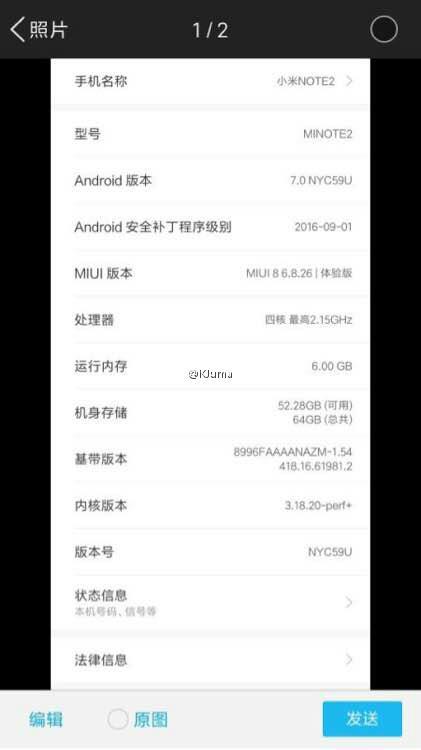 We've had
quite a few updates
pertaining to
Xiaomi's Mi Note 2
lately. One of the recurring themes is that the device will be the first from Xiaomi to pack 6 gigs of RAM, and a newly-leaked screenshot seems to confirm that at least one version will be generously equipped with the stuff. Elsewhere, the tidbit also points to Qualcomm's Snapdragon 820 chipset, which refutes the general notion that the Mi Note 2 will get the newer Snapdragon 821.
As you'd expect, the screenshot shows the device running the latest Android 7.0 Nougat firmware, beneath Xiaomi's MIUI 8.6.8.26 overlay. On-board storage checks in at 64 GB with a total of 52.28 GB free to be used, though a 128 GB edition could also be in the offing.
Display-wise, we're expecting a panel of 5.5 inches or more in diameter, and various sightings have suggested a pair of curved edges similar to the
Samsung Galaxy Note 7
. Then again, some of the leaks — photos of the 'Mi Note 2' taken in complete darkness — could easily have been faked. For now, then, we're taking most of the info — including this new screenshot — with a reasonable dose of skepticism.
With IFA set to take place in Berlin next week, we hopefully won't have to wait too much longer to find out precisely what Xiaomi is plotting.
Are you looking forward to the Xiaomi Mi Note 2? Do share your comments with us below.
Recommended Stories