Alleged Xiaomi Mi Note 2 leaked photos show off curved screen
10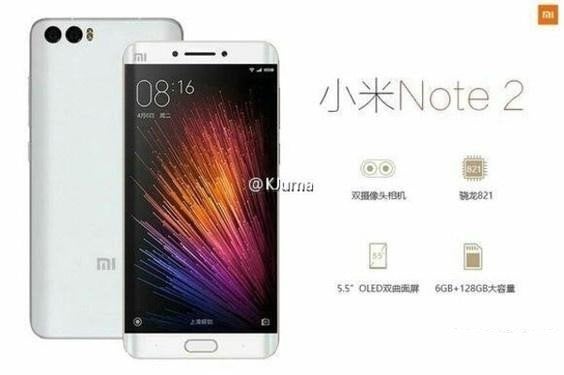 A community-made render of the alleged Mi Note 2
Xiaomi might be losing the star-studded momentum it once had in the Chinese market, but this isn't stopping the company from producing handsets a more indiscriminate eye (i.e. that of the average smartphone user) can qualify as "darn fine." Right now, Xiaomi is at work on a sequel to its well-received Mi Note smartphones it announced and released in the first half of last year, when the Qualcomm Snapdragon 810 processor was a novelty.
The Mi Note 2 has been leaking from time to time, with rumors describing four different variants of the handset, including a premium-most one with a curved screen and dual-camera setup. The latter has supposedly found itself before the lens of Mr. Blurrycam, seen running Xiaomi's MIUI Android-based operating system. The curved screen akin to the Samsung Galaxy S7 edge's is clearly visible in all shots.
Alas, there's no surefire way to confirm that this phone is the real deal from the dark photos, which obscure the device's design. It could be a curved screen handset from Vivo or Samsung with a MIUI theme. So as legit as these look, don't assume they are totally real just yet.
The render you are seeing in the header image isn't an official picture, but rather a community-made design based on leaks and rumors. Nevertheless, it's indeed hard to imagine the smartphone looking that much different from what we're seeing there.
Reportedly, the Xiaomi Mi Note 2 will be among the first Snapdragon 821-powered smartphones and is to feature 6GB of RAM memory, along with 128GB of storage in the most tricked-out model. Alas, it's unclear when Xiaomi will be presenting its latest creation. We think September or October are plausible, unless the smartphone is too early in the making and possibly scheduled for early next year.
via
GizChina
Recommended Stories