Samsung showcases Gear S3 craftsmanship in new clip
25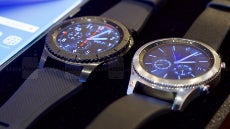 Samsung's unveiling of the
Gear S3 Classic and S3 Frontier
at IFA has helped inject some welcome optimism to the category of wrist-worn tech. The distraction of another potential Google-Apple duel has permitted Samsung and its fleet of mostly Tizen-powered devices to somewhat quietly stake a claim to a share of the spoils. As we look ahead to the release of the Gear S3 models, Samsung has shared a video detailing the craft that goes into the all-new design.
The touted functionality of the Gear S3 series suggests it could be a watershed product in the evolution of the smartwatch. Where many current examples force watch enthusiasts to lug their smartphone around like an IV drip, the Gear S3 is among the
first truly untethered smartwatches
. There's Samsung Pay out of the box, which caters to NFC transactions as well as the more traditional magstripe, while some versions of the Frontier will get all-singing LTE support. Add to that the potential four-day battery life thanks to the big-for-a-smartwatch 380 mAh juice packs, and you have a pair of watches that should only survive without a smartphone, but finally begin to
thrive.
With
an impressive-looking repertoire
of software and hardware features, it's hard to argue the case for a more complete wrist computer right now — at least on paper. But ultimately, even those sold on the idea will only make the purchase if allured by the design. The two distinctive flavors — the S3 Classic is more timepiece-y and proper while the Frontier is ruggedized for active individuals — should certainly help to broaden appeal. It remains to be seen, however, if the consumer market will take to these devices when the launch later this year.
Judging by a rather cinematic promotional video on the Gear S3's design story, a lot of Sammy's
blood, sweat and tears
drawing, drilling and diligence went into the construction of the S3 line. Take a look at the clip below, and let us know what you make of the new Gear S3 series via the comments.