New Nokia video touts advantages of its Smart Camera app, set to come with Amber software update in tow
20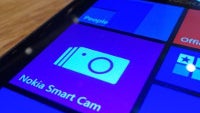 There's no denying that the cameramodules on Nokia phones have been a source of pride for the companyduring the years, andfor a good reason. So much so, that despite struggling to make areturn both financially and culturally, the Finnish manufacturer hasstill managed to secure itself a position of undisputed dominion inone particular niche: cameraphones. Starting off their charge withthe Nokia 808 PureView, the company has truly cemented its positionwith the Lumia 1020 and its 41MP sensor. Of course, it's not allabout hardware, and this is where Nokia's proprietary Smart Cameraapp comes in play.
Not to be confused with the Nokia Pro Cam app which is only available for Lumia devicescarrying the PureView branding on the back, Nokia Smart Cameranevertheless offers a range of improvements and new features. Alongthose are the ability to shoot several snaps in a quick successionand then pick the best, the so called "Motion Focus" featurewhich allows you to add motion blur to moving objects and others.
Only devices running the Ambersoftware update will be eligible to take advantage of the new app,located on the Windows Phone Store. Speaking of devices, thefollowing Lumia phones are expected to receive the Amber update: 920, 820, 720, 620 and 520.
The new update is slated for a lateAugust/early September launch, so it won't be long until you putNokia's promise for an "enhanced camera performance" and "evengreater overall experience" to the test.
via: NokiaPowerUser
Recommended Stories