New Android app gives you job listings...at RIM!
5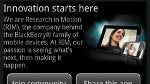 A new Android app is now available that will help you find that high paying job in the cellular industry that you have been dreaming of. Including links to Twitter, LinkedIn and Facebook, you can narrow your search down to openings in Business Operations, Business Development, Manufacturing and Supply Chain, Executive positions and more. There is something ironic about this app, however, and that is its location. Despite being available as a free download for the Android Market,
the app shows you job openings at...Research In Motion
.
The app,
called Jobs in Motion
, requires users to be rockin' Android 1.5 or higher. With the app, you can also search for RIM jobs by location and function and save the results of your search. You can mark certain jobs as "favorites" and receive an alert based on what type of job you are looking for. Despite the drop in the stock over the last few months, don't expect to see openings to replace the CEO duo of
Jim Balsillie and Mike Lazaridis.



Perhaps it shouldn't be so surprising that an application for jobs at the company that makes BlackBerry devices would find itself offered in the Android Market. After all, as we reported, the QNX OS on the company's BlackBerry PlayBook tablet (and expected to power the new BlackBerry Superphones due out early next year) can run Android apps with the installation of an Android player.

source: AndroidMarket via AndroidCentral