New 16GB Wi-Fi Apple iPad cost $316.05 to make says iSuppli
10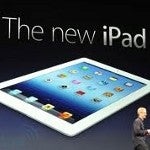 According to iSuppli, Apple cost to manufacture the 16GB Wi-Fi model of the new Apple iPad is $316.05. The tablet retails for $499 in the U.S. giving the Cupertino based firm a better than 50% margin on each unit sold. The 64GB LTE variant of the new Apple iPad costs $408.70 according to iSuppli, and retails for $829 which would mean that Apple has even higher margins on the sale of each of those models. The cost basis for the third-generation tablet is
higher than the cost to build Apple iPad 2
, but Apple has decided to keep the pricing the same which means a cut from the margins Apple had with last year's model. For example, the new 16GB Wi-Fi version costs 28% more to build while 32GB LTE model costs 9% more to produce than the 32GB Apple iPad 2 with 3G. Some of that higher cost is from the use of the Retina display on the new model.
Apple really makes the big bucks on those tablets with more NAND memory. While the difference in cost between a 16GB flash memory chip and a 32GB one is $16.80, Apple raises the retail price by $100. And we now can put a price on Retina display. The display on the Apple iPad 2 cost $57
while it is now $87 on the new iPad meaning that the Retina display cost $30 more per tablet to include
. The display is also the highest cost component in the device.
Samsung, Apple's arch enemy in the courtroom,
is Apple's BFF in the clean room
. According to iSuppli, 40% of the new Apple iPad's internal parts are from the Korean manufacturer including the LCD screen (with Sharp and LG in the bullpen), the A5X processor, and the NAND memory (along with Toshiba and Hynix). With iSuppli thinking that Samsung is also responsible for the battery in the unit, Sammy's total percentage of its exposure to the internal components of the iPad could run close to 50%.
source:
iSuppli
via
MobileSyrup