NVIDIA says Tegra 3 does work with LTE modems, project Stark will be 25 times as powerful
15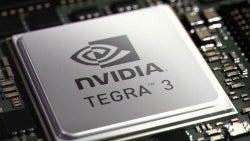 NVIDIA's chief of Tech Marketing Nick Stam refuted in an interview the claims that Tegra 3 and LTE don't get along. It is possible to have an external LTE modem in a quad-core Tegra 3 phone, he said:
Contrary to misinformation likely spread by our competitors, Tegra 3 does work with external LTE modems. Fujitsu will be shipping their Tegra 3-based Arrows X LTE phone starting July 20th, and more Tegra 3-based LTE phones from other vendors are coming later this year.
He also said that the Wayne chip next year will have integrated Icera 410 LTE modems, thanks to the
acquisition of Icera
, and
project Grey
afterwards will have the more advanced Icera 500 LTE modems in it.
Wayne is to be twice as powerful as Tegra 3, and Nick Stam hinted at a project Stark development, while talking about powering tablets: "
Expect our upcoming Wayne chip next year to provide double the Tegra 3 performance, and Stark a few years from now should provide up to twenty five times the Tegra 3 performance.
"
Recommended Stories